(Begin of language: English)
(Begin of language: English)
(Begin of language: English)
(Begin of language: English)
We custom build servers with Linux OS and support.
Dog Bytes Computers has designed and implemented highly efficient, secure and reliable IT networks for small and medium sized businesses. We provide a comprehensive service portfolio including LAN, WAN and VPN migration, network design, consultation and management, wireless and remote access, network monitoring and cabling. Learn more about our Managed IT Services & IT Consulting
(End of language: English)
(End of language: English)
(End of language: English)
(End of language: English)
In order to maximize efficiency and information flow throughout your company, proper network design is key. From needs analysis, to final implementation, Dog Bytes Computers can meet all your LAN (Local Area Networking) and WAN (Wide Area Networking) needs.
Whether you have 2 workstations or 200, and whether you're going 10 feet or 1000 miles between computers, Dog Bytes Computers can leverage network resources like routers, switches, firewalls and high-speed Internet access across your enterprise, thereby eliminating the need for excess hardware while facilitating workflow.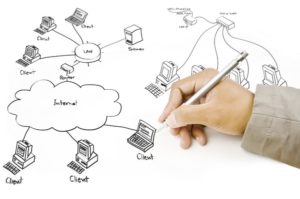 (Begin of language: English)
(Begin of language: English)
(Begin of language: English)
(Begin of language: English)
IT network design and implementation includes following:
LAN, WAN design and implementation
Wireless design and implementation
Internet/Intranet connectivity, design and configuration
Network analysis
Hardware and software bench-marking and tuning
Network assessment and data migration
Give us a call at 352-337-1030
To experience the efficient and dependable service at Dog Bytes Computers
(End of language: English)
(End of language: English)
(End of language: English)
(End of language: English)